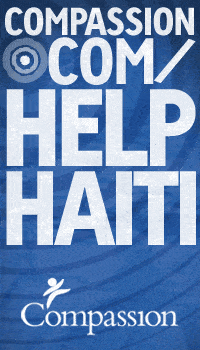 Tonight I was searching for more information on Haiti and of how Compassion international was working with their centers there in Haiti when
I came across this information.
I read through and not having a child sponsored in Haiti I didn't look for a specific center.
I did however read the comments and I read the comments and I read the comments.
It wasn't long before I had tears in my eyes. There were 100 comments, most from sponsors looking for ANY information on their child. They sound desperate and I am sure they are. They were trying to figure out exactly where their child was on the map and comparing that to where the epicenter of the quake was.
Some of them left comments that they were glad that their child was on an island far away, other left comments that they child was just 7 miles from the epicenter and they simply asked for prayers.
The pain and emotion is raw in the comments and to me sounds like so much more then simply a relationship where money is just sent.
It is obvious that these children are loved, cherished, prayed over, thought of and believed in.
These sponsors sound more like parents, longing for information yet fearful of what they will hear.
If you are looking for a way to help in Haiti, you should consider Compassion International. They have a large network already at work in Haiti. They know the people, they
are
the people there and they are already in place to start helping.
This page has all the Haiti updates from Compassion and it has specific ways in which you can help and what exactly your donations will do for the people of Haiti.
Please check it out.